September 23, 2005
Test Post By Pixy
A Lady who Thinks She Is Thirty
by Ogden Nash

Unwillingly Miranda wakes,
Feels the sun with terror,
One unwilling step she takes,
Shuddering to the mirror.
Miranda in Miranda's sight
Is old and gray and dirty;
Twenty-nine she was last night;
This morning she is thirty.
Shining like the morning star,
Like the twilight shining,
Haunted by a calendar,
Miranda is a-pining.
Silly girl, silver girl,
Draw the mirror toward you;
Time who makes the years to whirl
Adorned as he adored you.
Time is timelessness for you;
Calendars for the human;
What's a year, or thirty, to
Loveliness made woman?
Oh, Night will not see thirty again,
Yet soft her wing, Miranda;
Pick up your glass and tell me, then--
How old is Spring, Miranda?


The Firefly
by Ogden Nash

The firefly's flame Is something for which science has no name
I can think of nothing eerier
Than flying around with an unidentified glow on a
person's posteerier.


The Guppy
by Ogden Nash

Whales have calves,
Cats have kittens,
Bears have cubs,
Bats have bittens,
Swans have cygnets,
Seals have puppies,
But guppies just have little guppies.


Just Keep Quiet and Nobody Will Notice
by Ogden Nash

There is one thing that ought to be taught in all the colleges,
Which is that people ought to be taught not to go around always making apologies.
I don't mean the kind of apologies people make when they run over you or borrow five dollars or step on your feet,
Because I think that is sort of sweet;
No, I object to one kind of apology alone,
Which is when people spend their time and yours apologizing for everything they own.
You go to their house for a meal,
And they apologize because the anchovies aren't caviar or the partridge is veal;
They apologize privately for the crudeness of the other guests,
And they apologzie publicly for their wife's housekeeping or their husband's jests;
If they give you a book by Dickens they apologize because it isn't by Scott,
And if they take you to the theater, they apologize for the acting and the dialogue and the plot;
They contain more milk of human kindness than the most capacious diary can,
But if you are from out of town they apologize for everything local and if you are a foreigner they apologize for everything American.
I dread these apologizers even as I am depicting them,
I shudder as I think of the hours that must be spend in contradicting them,
Because you are very rude if you let them emerge from an argument victorious,
And when they say something of theirs is awful, it is your duty to convince them politely that it is magnificent and glorious,
And what particularly bores me with them,
Is that half the time you have to politely contradict them when you rudely agree with them,
So I think there is one rule every host and hostess ought to keep with the comb and nail file and bicarbonate and aromatic spirits on a handy shelf,
Which is don't spoil the denouement by telling the guests everything is terrible, but let them have the thrill of finding it out for themselves.


The Tale of Custard the Dragon
by Ogden Nash

Belinda lived in a little white house,
With a little black kitten and a little gray mouse,
And a little yellow dog and a little red wagon,
And a realio, trulio, little pet dragon.
Now the name of the little black kitten was Ink,
And the little gray mouse, she called hum Blink,
And the little yellow dog was sharp as Mustard,
But the dragon was a coward, and she called him Custard.
Custard the dragon had big sharp teeth,
And spikes on top of him and scales underneath,
Mouth like a fireplace, chimney for a nose,
And realio, trulio daggers on his toes.
Belinda was as brave as a barrel full of bears,
And Ink and Blink chased lions down the stairs,
Mustard was as brave as a tiger in a rage,
But Custard cried for a nice safe cage.
Belinda tickled him, she tickled him unmerciful,
Ink, Blink and Mustard, they rudely called him Percival,
They all sat laughing in the little red wagon
At the realio, trulio, cowardly dragon.
Belinda giggled till she shook the house,
and Blink said Weeck! which is giggling for a mouse,
Ink and Mustard rudely asked his age,
When Custard cried for a nice safe cage.
Suddenly, suddenly they heard a nasty sound,
And Mustard growled, and they all looked around.
Meowch! cried Ink, and Ooh! cried Belinda,
For there was a pirate, climbing in the winda.
Pistol in his left hand, pistol in his right,
And he held in his teeth a cutlass bright,
His beard was black, one leg was wood;
It was clear that the pirate meant no good.
Belinda paled, and she cried Help! Help!
But Mustard fled with a terrified yelp,
Ink trickled down to the bottom of the household,
And little mouse Blink strategically mouseholed.
But up jumped Custard snorting like an engine,
Clashed his tail like irons in a dungeon,
With a clatter and a clank and a jangling squirm,
He went at the pirate like a robin at a worm.
The pirate gaped at Belinda's dragon,
And gulped some grog from his pocket flagon,
He fired two bullets, but they didn't hit,
And Custard gobbled him, every bit.
Belinda embraced him, Mustard licked him,
No one mourned for his pirate victim.
Ink and Blink in glee did gyrate
Around the dragon that ate the pirate.
But presently up spoke little dog Mustard,
I'd been twice as brave if I hadn't been flustered.
And up spoke Ink and up spoke Blink,
We'd have been three times as brave, we think,
And Custard said, I quite agree
That everybody is braver than me.
Belinda still lives in her little white house,
With her little black kitten and her little gray mouse,
And her little yellow dog and her little red wagon,
And her realio, trulio little pet dragon.
Belinda is as brave as a barrel full of bears,
And Ink and Blink chase lions down the stairs,
Mustard is as brave as a tiger in a rage,
But Custard keeps crying for a nice safe cage.


The Pied Piper of Hamelin
by Robert Browning
I
Hamelin Town's in Brunswick,
By famous Hanover city;
The river Weser, deep and wide,
Washes its wall on the southern side;
A pleasanter spot you never spied;
But, when begins my ditty,
Almost five hundred years ago,
To see the townsfolk suffer so
From vermin, was a pity.
II
Rats!
They fought the dogs and killed the cats,
And bit the babies in the cradles,
And ate the cheeses out of the vats,
And licked the soup from the cooks' own ladle's,
Split open the kegs of salted sprats,
Made nests inside men's Sunday hats,
And even spoiled the women's chats
By drowning their speaking
With shrieking and squeaking
In fifty different sharps and flats.
III
At last the people in a body
To the town hall came flocking:
"'Tis clear," cried they, 'our Mayor's a noddy;
And as for our Corporation--shocking
To think we buy gowns lined with ermine
For dolts that can't or won't determine
What's best to rid us of our vermin!
You hope, because you're old and obese,
To find in the furry civic robe ease?
Rouse up, sirs! Give your brains a racking
To find the remedy we're lacking,
Or, sure as fate, we'll send you packing!"
At this the Mayor and Corporation
Quaked with a mighty consternation.
IV
An hour they sat in council,
At length the Mayor broke silence:
"For a guilder I'd my ermine gown sell,
I wish I were a mile hence!
It's easy to bid one rack one's brain--
I'm sure my poor head aches again,
I've scratched it so, and all in vain
Oh for a trap, a trap, a trap!"
Just as he said this, what should hap
At the chamber door but a gentle tap?
"Bless us,' cried the Mayor, "what's that?"
(With the Corporation as he sat,
Looking little though wondrous fat;
Nor brighter was his eye, nor moister
Than a too-long-opened oyster,
Save when at noon his paunch grew mutinous
For a plate of turtle, green and glutinous)
"Only a scraping of shoes on the mat?
Anything like the sound of a rat
Makes my heart go pit-a-pat!"

V
"Come in!"--the Mayor cried, looking bigger:
And in did come the strangest figure!
His queer long coat from heel to head
Was half of yellow and half of red
And he himself was tall and thin,
With sharp blue eyes, each like a pin,
And light loose hair, yet swarthy skin,
No tuft on cheek nor beard on chin,
But lips where smiles went out and in--
There was no guessing his kith and kin!
And nobody could enough admire
The tall man and his quaint attire.
Quoth one: "It's as if my great-grandsire,
Starting up at the Trump of Doom's tone,
Had walked this way from his painted tombstone!"

VI
He advanced to the council-table:
And, "Please your honors," said he, "I'm able,
By means of a secret charm, to draw
All creatures living beneath the sun,
That creep or swim or fly or run,
After me so as you never saw!
And I chiefly use my charm
On creatures that do people harm,
The mole and toad and newt and viper;
And people call me the Pied Piper."
(And here they noticed round his neck
A scarf of red and yellow stripe,
To match with his coat of the self-same check;
And at the scarf's end hung a pipe;
And his fingers, they noticed, were ever straying
As if impatient to be playing
Upon this pipe, as low it dangled
Over his vesture so old-fangled.)
"Yet," said he, "poor piper as I am,
In Tartary I freed the Cham,
Last June, from his huge swarm of gnats;
I eased in Asia the Nizam
Of a monstrous brood of vampyre-bats:
And as for what your brain bewilders--
If I can rid your town of rats
Will you give me a thousand guilders?"
"One? Fifty thousand!" was the exclamation
Of the astonished Mayor and Corporation.

VII
Into the street the Piper stept,
Smiling first a little smile,
As if he knew what magic slept
In his quiet pipe the while;
Then, like a musical adept,
To blow the pipe his lips he wrinkled,
And green and blue his sharp eyes twinkled,
Like a candle-flame where salt is sprinkled;
And ere three shrill notes the pipe uttered,
You heard as if an army muttered;
And the muttering grew to a grumbling;
And the grumbling grew to a mighty rumbling;
And out of the houses the rats came tumbling.
Great rats, small rats, lean rats, brawny rats,
Brown rats, black rats, gray rats, tawny rats,
Grave old plodders, gay young friskers,
Fathers, mothers, uncles, cousins,
Cocking tails and pricking whiskers,
Families by tens and dozens,
Brothers, sisters, husbands, wives--
Followed the Piper for their lives.
From street to street he piped advancing,
And step for step they followed dancing,
Until they came to the river Weser
Wherein all plunged and perished!
‹Save one who, stout as Julius Caesar,
Swam across and lived to carry
(As the manuscript he cherished)
To Rat-land home his commentary:
Which was, "At the first shrill notes of the pipe,
I heard a sound as of scraping tripe,
And putting apples, wondrous ripe,
Into a cider-press's gripe:
And a moving away of pickle-tub-boards,
And a leaving ajar of conserve-cupboards,
And a drawing the corks of train-oil-flasks,
And a breaking the hoops of butter-casks:
And it seemed as if a voice
(Sweeter far than by harp or by psaltery
Is breathed) called out, 'Oh rats, rejoice!
The world is grown to one vast dry-saltery!
So munch on, crunch on, take your nuncheon,
Breakfast, supper, dinner, luncheon!'
And just as a bulky sugar-puncheon,
All ready staved, like a great sun shone
Glorious scarce an inch before me,
Just as methought it said 'Come bore me!'
-- I found the Weser rolling o'er me."

VIII
You should have heard the Hamelin people
Ringing the bells till they rocked the steeple.
Go," cried the Mayor, "and get long poles!
Poke out the nests and block up the holes!
Consult with carpenters and builders
And leave in our town not even a trace
Of the rats!"-- when suddenly, up the face
Of the Piper perked in the market-place,
With a, "First, if you please, my thousand guilders!"

IX
A thousand guilders! The Mayor looked blue;
So did the Corporation too.
For council dinners made rare havoc
With Claret, Moselle, Vin-de-Grave, Hock;
And half the money would replenish
Their cellar's biggest butt with Rhenish.
To pay this sum to a wandering fellow
With a gypsy coat of red and yellow!
"Beside," quoth the Mayor with a knowing wink,
"Our business was done at the river's brink;
We saw with our eyes the vermin sink,
And what's dead can't come to life, I think.
So, friend, we're not the folks to shrink
From the duty of giving you something for drink,
And a matter of money to put in your poke;
But as for the guilders, what we spoke
Of them, as you very well know, was in joke.
Beside, our losses have made us thrifty.
A thousand guilders! Come, take fifty!

X
The Piper's face fell, and he cried,
"No trifling! I can't wait! Beside,
I've promised to visit by dinnertime
Bagdad, and accept the prime
Of the Head-Cook's pottage, all he's rich in,
For having left, in the Caliph's kitchen,
Of a nest of scorpions no survivor--
With him I proved no bargain-driver,
With you, don't think I'll bate a stiver!
And folks who put me in a passion
May find me pipe to another fashion."

XI
"How?" cried the Mayor, "d'ye think I brook
Being worse treated than a Cook?
Insulted by a lazy ribald
With idle pipe and vesture piebald?
You threaten us, fellow? Do your worst,
Blow your pipe there till you burst!"

XII
Once more he stept into the street
And to his lips again
Laid his long pipe of smooth straight cane;
And ere he blew three notes (such sweet
Soft notes as yet musician's cunning
Never gave the enraptured air)
There was a rustling that seemed like a bustling
Of merry crowds justling at pitching and hustling,
Small feet were pattering, wooden shoes clattering,
Little hands clapping, and little tongues chattering,
And, like fowls in a farm-yard when barley is scattering,
Out came the children running.
All the little boys and girls,
With rosy cheeks and flaxen curls,
And sparkling eyes and teeth like pearls,
Tripping and skipping, ran merrily after
The wonderful music with shouting and laughter.

XIII
The Mayor was dumb, and the Council stood
As if they were changed into blocks of wood,
Unable to move a step or cry,
To the children merrily skipping by--
And could only follow with the eye
That joyous crowd at the Piper's back.
But how the Mayor was on the rack
And the wretched Council's bosoms beat,
As the Piper turned from the High Street
To where the Weser rolled its water's
Right in the way of their sons and daughters!
However he turned from South to West
And to Koppelberg Hill his steps addressed,
And after him the children pressed;
Great was the joy in every breast.
"He never can cross that mighty top!
He's forced to let the piping drop
And we shall see our children stop!
When, lo, as they reached the mountain-side,
A wondrous portal opened wide,
As if a cavern was suddenly hollowed;
And the Piper advanced and the children followed,
And when all were in to the very last,
The door in the mountain-side shut fast.
Did I say all? No! One was lame,
And could not dance the whole of the way;
And in after years, if you would blame
His sadness, he was used to say,--
"It's dull in our town since my playmates left!
I can't forget that I'm bereft
Of all the pleasant sights they see,
Which the Piper also promised me.
For he led us, he said, to a joyous land,
Joining the town and just at hand,
Where waters gushed and fruit-trees grew,
And flowers put forth a fairer hue,
And everything was strange and new;
The sparrows were brighter than peacocks here,
And their dogs outran our fallow deer,
And honey-bees had lost their stings,
And horses were born with eagles' wings:
And just as I became assured
My lame foot would be speedily cured,
The music stopped and I stood still,
And found myself outside the hill,
Left alone against my will,
To go now limping as before,
And never hear of that country more!

XIV
Alas, alas for Hamelin!
There came into many a burgher's pate
A text which says that heaven's gate
Opens to the rich at as easy rate
As the needle's eye takes a camel in!
The mayor sent East, West, North and South,
To offer the Piper, by word of mouth
Wherever it was men's lot to find him,
Silver and gold to his heart's content,
If he'd only return the way he went,
And bring the children behind him.
But when they saw 'twas a lost endeavor,
And Piper and dancers were gone forever,
They made a decree that lawyers never
Should think their records dated duly
If, after the day of the month and year,
These words did not as well appear:
"And so long after what happened here
On the twenty-second of July,
Thirteen hundred and seventy-six;"
And the better in memory to fix
The place of the children's last retreat,
They called it the Pied Piper's Street,
Where any one playing on pipe or tabor
Was sure for the future to lose his labor.
Nor suffered they hostelry or tavern
To shock with mirth a street so solemn,
But opposite the place of the cavern
They wrote the story on a column,
And on the great church-window painted
The same, to make the world acquainted
How their children were stolen away,
And there it stands to this very day.
And I must not omit to say
That, in Transylvania there's a tribe
Of alien people who ascribe
To the outlandish ways and dress
On which their neighbors lay such stress,
To their fathers and mothers having risen
Out of some subterranean prison
Into which they were trepanned
Long time ago in a mighty band
Out of Hamelin town in Brunswick land,
But how or why they don't understand.
XV
So, Willy, let you and me be wipers
Of scores out with all men--especially pipers!
And, whether they pipe us free, from rats or from mice,
If we've promised them ought, let us keep our promise.
Posted by Pixy Misa at September 23, 2005 04:51 PM |
TrackBack
"Let the issues be the issue.
About Joy W. McCann: I've been interviewed for
Le Monde
and mentioned on Fox News. I once did a segment for CNN on "Women and Guns," and this blog is periodically featured on the
New York Times'
blog list. My writing here has been quoted in
California Lawyer.
I've appeared on The Glenn and Helen Show. Oh—and Tammy Bruce once bought me breakfast.
My writing has appeared in
The Noise,
Handguns,
Sports Afield,
The American Spectator,
and (it's a long story)
L.A. Parent.
This is my main blog, though I'm also an alumnus of Dean's World, and I help out on the weekends at Right Wing News.
My political philosophy is quite simple: I'm a classical liberal. In our Orwellian times, that makes me a conservative, though one of a decidedly libertarian bent.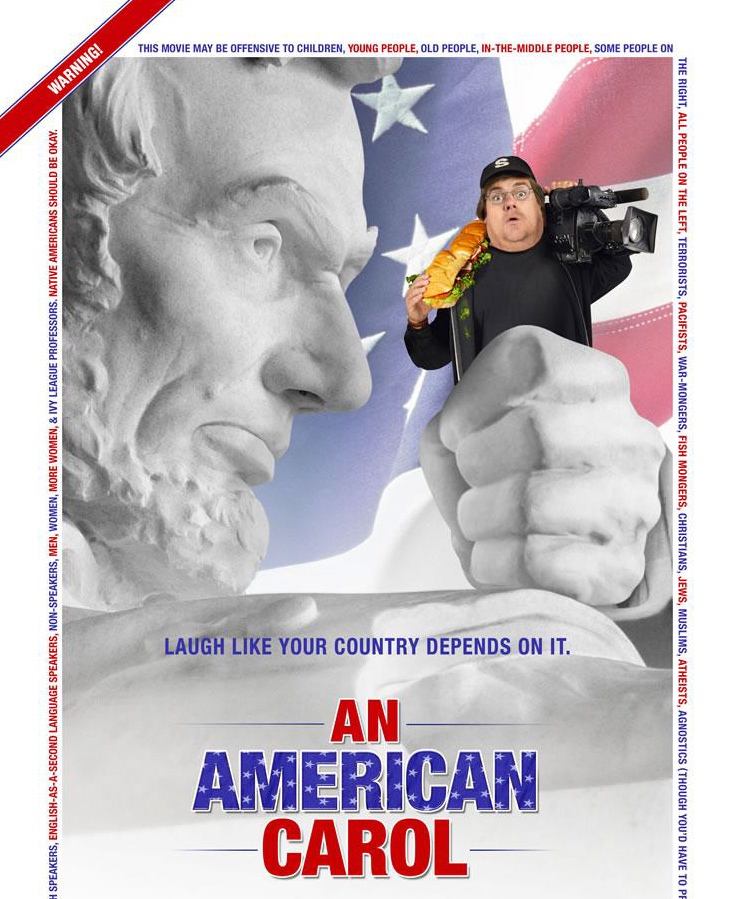 An American Carol
rawks!
Main AAC site
(Warning: sound-enabled;
trailer starts automatically.)

Buy Blogads from the
Conservative
Network
here.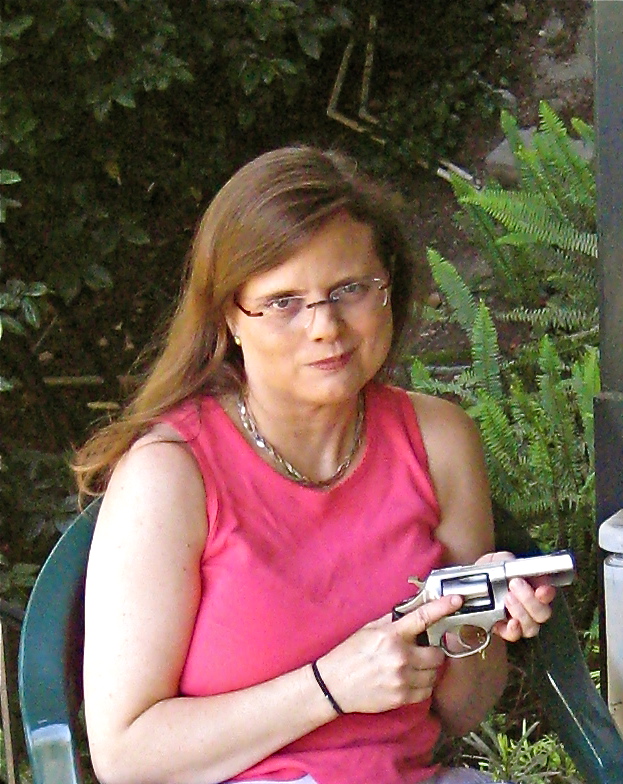 This is one of the last pix
we took before we left
the house in La Cañada.
I think it's very flattering
to Bathsheba the .357.
"The women of this country learned long ago,
those without swords can still die upon them.
I fear neither death nor pain." —Eowyn, Tolkien's
Lord of the Rings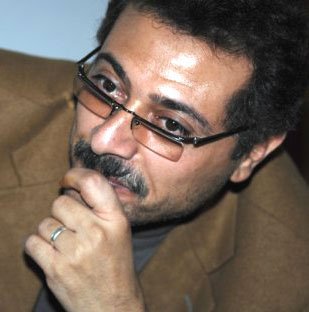 Free Abdulkarim al-Khaiwani!
See Jane Novak's "Yemeni Watch" blog,
Armies of Liberation.
Free journalists and dissident bloggers, worldwide!
Some of My Homegirls—
ERROR: http://rpc.blogrolling.com/display_raw.php?r=59e4b55f70f50de810150859b200a635 is currently inaccessible
ENERGY RESOURCES:
• API
(Information on Oil and Natural Gas)
• Natural Gas
• The California
Energy Blog
• The Alternative Energy Blog
(Solar, Wind, Geothermal, etc.)
• The Energy Revolution Blog
• Gas 2.0 Blog
• Popular Mechanics'
"Drive Green"
MOVIES & TELEVISION:
Criticism—
• Libertas
(now on hiatus, but they'll be back!)
• Pajiba
Real
Indie Productions—
• Indoctrinate U
(Evan Coyne Maloney)
• Mine Your Own Business
(Phelim McAleer)
• Expelled: No
Intelligence Allowed
(Ben Stein, Logan Craft,
Walt Ruloff, and John
Sullivan)
Real Indie Production
and Distibution
Companies—
• Moving Picture Institute
THE SAGA OF LIFE IN
THE R.H. HYMERS, JR., CULT:
• First Installment: The Basic Story

• Hymers' History of Violence
• How Fun Is It To
Be Recruited Into Hymer's
Offbeat Church? Not Very.
• How I Lost My Virginity
THE LITTLE MISS
ATTILA SAMPLER:
On Food:
•
Dreadful Breakfast Cookies
On Men and Women:
•
It's Rape If
You Don't Send
Me Money
•
Women Talk Too Much;
I'll Date Dolphins
•
Heterosexual
Men Are Kinky
•
Hot Cars,
Hot Girls
On Animation:
•
Freakazoid!
—the Commentary
•
Freakazoid!
DVD
On Religion:
•
Athiests and
Christians Talking
To Each Other
TESTIMONIALS:
"Good grammar, and better gin."
—CalTech Girl
"I enjoy Little Miss Attila's essays."
—Venomous Kate
"Joy is good at catching flies with honey."
—Beth C
"Your position is ludicrous, and worthy of ridicule."
—Ace of Spades
"Sexy."
—RightGirl
"Old-school."
—Suburban Blight
HAWT LYNX:
Teh Funny—
• Dave Burge
Interesting News Items
Civics Lessons—
Taranto on How a Bill Becomes Law
Editorial Resources—
• Better Editor
• Web on the Web
• Me me me me me! (miss.attila --AT-- gmail --dot-- com)
Cigars—
•
Cigar Jack
Science—
•
David Linden/
The Accidental Mind
•
Cognitive Daily
Rive Gauche—
•
Hip Nerd's Blog
•
K's Quest
•
Mr. Mahatma
•
Talk About America
•
Hill Buzz
•
Hire Heels
•
Logistics Monster
•
No Quarter
Food & Booze—
•
Just One Plate (L.A.)
•
Food Goat
•
A Full Belly
•
Salt Shaker
•
Serious Eats
•
Slashfood
Travel—
•
Things You Should Do
(In the West)
•
Just One Plate (L.A.)
Cars—
•
• Jalopnik
The Truth About Cars
SoCal News—
•
Foothill Cities
Oh, Canada—
•
Five Feet of Fury
•
Girl on the Right
•
Small Dead Animals
•
Jaime Weinman
Audio—
•
Mary McCann,
The Bone Mama
(formerly in Phoenix, AZ;
now in Seattle, WA;
eclectic music)
•
Mike Church,
King Dude
(right-wing talk)
•
Jim Ladd
(Los Angeles;
Bitchin' Music
and Unfortunate
Left-Wing Fiddle-Faddle)

•
The Bernsteins
(Amazing composers
for all your
scoring needs.
Heh. I said,
"scoring needs.")

Iran, from an Islamic Point of View
and written in beautiful English—
•
Shahrzaad
Money—
•
Blogging Away Debt
•
Debt Kid
•
Debtors Anonymous
World Services
•
The Tightwad Gazette
Sex—
•
Gentleman Pornographer
More o' Dat
Pop Culture—
•
Danny Barer
(Animation News) •
Something Old,
Nothing New
(And yet more
Animation News)

•
Sam Plenty
(Cool New
Animation Site!)

•
The Bernsteins
(Wait. Did I mention
the Bernsteins
already? They're
legendary.)

Guns & Self-Defense—
•
Paxton Quigley, the Pioneer
•
TFS Magnum (Zendo Deb)
•
Massad Ayoob's Blog
THE BLOGOSPHERE ACCORDING TO
ATTILA GIRL:
The American Mind
Aces, Flopping
Ace of Spades
Argghhh!!!
Armies of Liberation
Asymmetrical Information
Atlas Shrugs
Attila of Pillage Idiot
Beautiful Atrocities
The Belmont Club
The Bitch Girls
Bolus
Books, Bikes, and Boomsticks
The Common Virtue
Da Goddess
Danz Family
Dean's World
Desert Cat/a>

Digger's Realm
Cam Edwards
Eleven Day Empire (James DiBenedetto)
Flopping Aces
Froggy Ruminations
Gay Orbit
Gregory!
Jeff Goldstein
Mary Katherine Ham
At the D.C. Examiner
Hugh Hewitt
Hi. I'm Black.
Iberian Notes
IMA0
Iowahawk
The Irish Lass
In DC Journal
Infinite Monkeys
Instapundit
Intel Dump
Trey Jackson (videoblogging)
James Joyner
James Lileks
Rachel Lucas
Men's News Daily
Michelle Malkin
Nice Deb
No Watermelons Allowed
North American Patriot
On Tap
On the Fritz
On the Third Hand
Outside the Beltway
Oxblog
Peoria Pundit
Photon Courier
Power Line
The Protocols of
the Yuppies of Zion
Protein Wisdom
The Queen of All Evil
Questions and Observations
RightGirl
Right Wing News
Scrappleface
Donald Sensing
Rusty Shackleford
The Shape of Days
Sharp as a Marble
Sheila A-Stray
Laurence Simon
Six Meat Buffet
Spades, Ace of
Suburban Blight
TFS Magnum
This Blog is Full of Crap
Triticale
The Truth Laid Bear
Venomous Kate
VodkaPundit
The Volokh Conspiracy
Where is Raed?
Wizbang
Write Enough
You Big Mouth, You!

Support our troops; read the Milblogs!