April 13, 2007
I've Got Your "Tortuous Interference" Right Here, Baby.
The JL Kirk Associates/King & Ballow shitstorm has been raising my hackles to the point that I've been slightly afraid to post about it: bullies make me absolutely furious.
People who use unfair tactics against those in the job market piss me off, and unjustified legal threats against those exercising their First Amendment rights do the same thing. JL Kirk Associates and King & Ballow are both behaving not just like assholes, but like idiots. I'll let you decide which is worse in either case—the assholism or the idiocy.
Over at Patterico, the smart-and-dishy Justin Levine puts it this way:
Iím late to the game here, but I wanted to join the growing numbers in the blogging community who officially declare JL Kirk Associates, Alan E. Korpady and the Nashville legal firm of King & Ballow to be complete asshats. No self respecting person who supports free speech rights should ever utilize the services of these people.

In my experience, the bigger the law firm, the less likely they are to understand how blogging culture has changed the landscape. These people donít understand that a legal threat is far more likely to damage their clientís reputation, rather than repair it.
Ah, yes: but isn't it a beautiful thing? Before King & Ballow issued this legal threat, many people in Tennessee hadn't even heard of either them or JL Kirk Associates. Now both companies are household words: the former as a sicko scam operation, and the latter as an extraordinarily clumsy handler of media relations.
Here is the post that King & Ballow thought might constitute "tortuous interference" with the business of JL Kirk and Associates (and their reasoning is tortuous, indeed):
J.L. Kirk & Associates: My Story

Feel free to skip to the end for the juicy stuff...

JL Kirk & Associates found my husband's resume online. They contacted him a couple of weeks ago and offered their services as an 'Executive Placement Firm'. As I'm wont to do, I of course Googled them as much as possible and found very little in the way of solid information. So I've decided to write up our experiences with them for anyone else who is interested in finding out more about this particular operation.

Anyone who has been searching for a job for any length of time is well aware of the various vulnerabilities that are part of the process. There's the self-doubt, frustration and impatience, coupled with no small amount of worry. So when a job searcher gets an email that says "maybe we can help!" the relief is almost immediate.

My husband filled out an application and questionnaire, and returned it directly to the company. He then received an appointment with a counselor the following week. During that appointment the representative of JL Kirk & Associates interviewed him just as one would for a position. The afternoon after the interview he received an email that congratulated him on making it through the first step of the process. They wanted to schedule a second interview which required my presence as a Support Person/Spouse/Significant Other. When he scheduled the interview he questioned them directly about their fees and payment arrangements. He was told that if we received approval after the second interview the money would be discussed at that time.

So today was the second interview, and we drove to Maryland Farms for our 2:00 appointment. We sat in a waiting room next to a fake fireplace and a lone man in a suit. At 2:11 a matronly woman came out and announced to the other man--in front of us--that she would not be able to meet with him because he wasn't able to bring his Support Person. They had a lengthy conversation in front of us about this failed meeting and his disappointment. He asked to speak with her behind closed doors (as would I) and then five minutes later that conversation ended with him leaving dejectedly. She then turned to us (it is now 2:17pm) and greeted us warmly.

We were led into an office that appeared to have been the result of a decorating war between a loan officer and an eccentric grandmother. The prototypical office furniture clashed with a giant print of Raffael's Cherubs a reproduction oriental rug and a handmade mosaic table with a tilted top. The Husband and I were seated in two chairs across from the interviewer, who sat on a sofa next to a pile of throw pillows.

Here's where the fun starts. We heard all about how hard it is to find a job, how most jobs aren't posted online and are only found through networking. We heard about how the really good jobs are available only to those 'in the know' and can only be obtained through some wizardy combining Masonic handshakes, good dentistry and whatever pixie dust this particular company stores in the backroom. This interview seemed very carefully designed to exploit every potential vulnerability that any jobseeker feels. After about 10 minutes of conversation subtly designed to push every button we may have, the interviewer handed us a booklet that was said to be a tailored write-up of my husband's profile as a job-seeker. The interviewer left us alone in the room to digest the booklet on our own terms.

The booklet consisted of three pages of reiteration of the interview's strong-arm tactics, followed by a regurgitation of information from my husband's resume, all summarised with a couple of pages essentially saying "the job market is tough but we think you're really great and so we'll be here to help you get a job!" We skimmed the booklet and reviewed our game plan, then signaled the interviewer by opening the door.

Our game plan was to ask direct questions about the company's operation and placement record. In short, 'what exactly do you do and how well do you do it?' We had test answers in mind. In short, if we ask a direct question and get a vague answer such as "every case is different so numbers are hard to apply here" that tells us a great deal about the company's services.

Sure enough, our first question about placement rate was answered with an "every case is different, etc." style answer. Ultimately she gave us the figure of "90 to 92% placement rate" and then proceeded to tell us a long tale about a 'failed' client who showed up 37 minutes late to an interview with a CEO from an out-of-state firm. We all agreed that was indeed very unprofessional of said client and what a shame and how good to not work with him. (I of course was thinking about how we were on time for that interview which she failed to start until 17 minutes after the promised appointment time.)

She then gave us the very good news that they were prepared to accept us as clients. Then the fun began. We were told that Headhunters and Employment Agencies took fees only when a job had been secured for the job seeker, and they took their fees (generally 30-40%) from the hiring firm. But that means the job seeker gets a lower starting salary because all of their good money is going to the headhunter/employment agency. Thankfully, though, JL Kirk & Associates will be able to get my husband a job making a far larger starting salary. All we need to do is put $4,420 on a credit card today. Once we do that the entire weight of the firm of JL Kirk & Associates will begin the task of navigating treacherous shark-infested landmines of the job search on behalf of my husband. And just trust them, because they find jobs for 90% of the people who pay them to.

So that's how it works. And that's pretty much how we expected that it would work. But both the spouse and I believe that it's irrepsonsible to not pursue any lead during this time so we thought we'd go through the process. Especially since they kept so much of it in the dark from the outset.

JUICY STUFF BEGINS HERE

But I'm very angry about it. If you've made it this far, I suppose maybe you could tell that I've been supressing most of my irritation. However, irritation makes for good blog reading, and so here it is.

I get really ticked off at people trying to use fear to motivate others. I don't care if you are a fire-and-brimstone preacher, an insurance salesman, a used-car salesman or a cat burglar. Finding someone else's fear and vulnerability and using that vulnerability to somehow enrich yourself is a cheap and underhanded tactic. It's wrong and it's cruel. And I think that's exactly what this placement firm did to us today. There were times when I felt like I was sitting across from a spider. We were meant to feel at home enough to let down our guard so that the woman could then ply us gently with tales of terror. All of it was designed to make us hand over nearly $5,000 without question and without possibility of a refund.

The husband and I are not always idiots. We both expect to pay for services rendered from any provider. But we generally like to be treated as responsible adults. We had legitimate questions about the fee structure and we raised those at several points in the process. For them to not even discuss that fee structure until they had battered us emotionally for half an hour is what I would consider to be unethical. I'm sure there are other employment agencies and headhunters out there. We'll continue to look for them.

In the meantime, I would discourage anyone who stumbles across this entry from even going through the JL Kirk & Associates "interview process".

UPDATE

I should also mention that this company was formerly Bernard Haldane before it was purchased by Mr. Kirk Leipzig. One of the accusations against Bernard Haldane was that they would make an examination of the potential client's assets and charge accordingly. I find it interesting to note just how close our "fee" was to the tax refund we recently received. Hmmm. Makes you wonder, no?
The rule in business now is that whatever takes place in private may be brought into the public square if either party attempts to take unfair advantage of the other.
Be careful what you do in the dark: someone may lift the rock up at any moment.
Glenn has a few mini-roundups:
Insty on JL Kirk, #3: The Media Bloggers Association is on the case;
Insty on JL Kirk, #2
Insty on JL Kirk, #1
Now, you all have a nice day. And fight fair!
Posted by Attila Girl at April 13, 2007 11:01 AM |
TrackBack
"Let the issues be the issue.
About Joy W. McCann: I've been interviewed for
Le Monde
and mentioned on Fox News. I once did a segment for CNN on "Women and Guns," and this blog is periodically featured on the
New York Times'
blog list. My writing here has been quoted in
California Lawyer.
I've appeared on The Glenn and Helen Show. Oh—and Tammy Bruce once bought me breakfast.
My writing has appeared in
The Noise,
Handguns,
Sports Afield,
The American Spectator,
and (it's a long story)
L.A. Parent.
This is my main blog, though I'm also an alumnus of Dean's World, and I help out on the weekends at Right Wing News.
My political philosophy is quite simple: I'm a classical liberal. In our Orwellian times, that makes me a conservative, though one of a decidedly libertarian bent.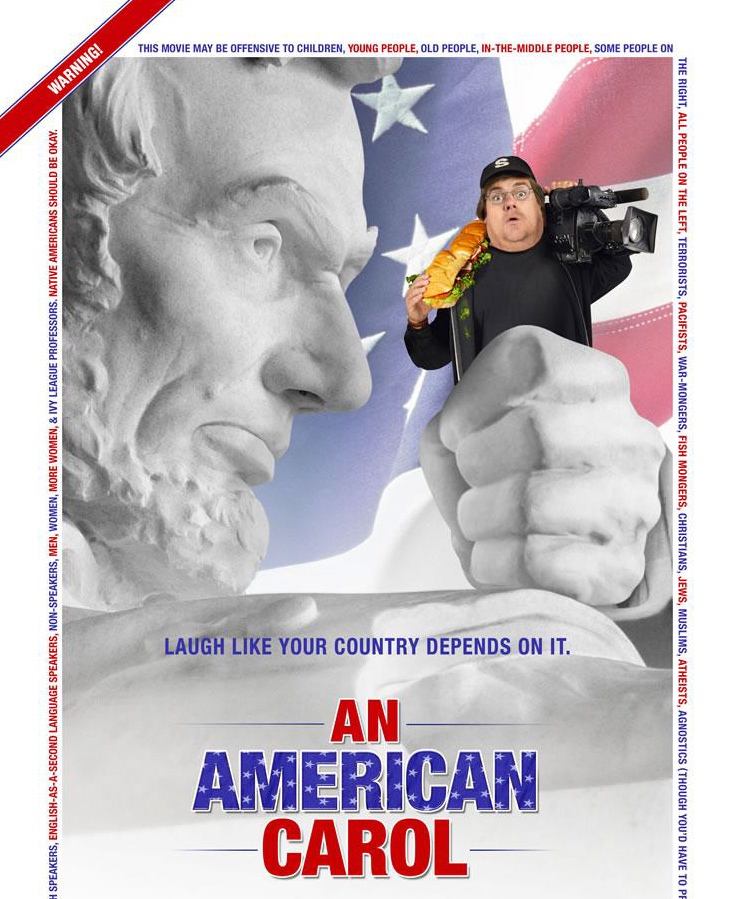 An American Carol
rawks!
Main AAC site
(Warning: sound-enabled;
trailer starts automatically.)

Buy Blogads from the
Conservative
Network
here.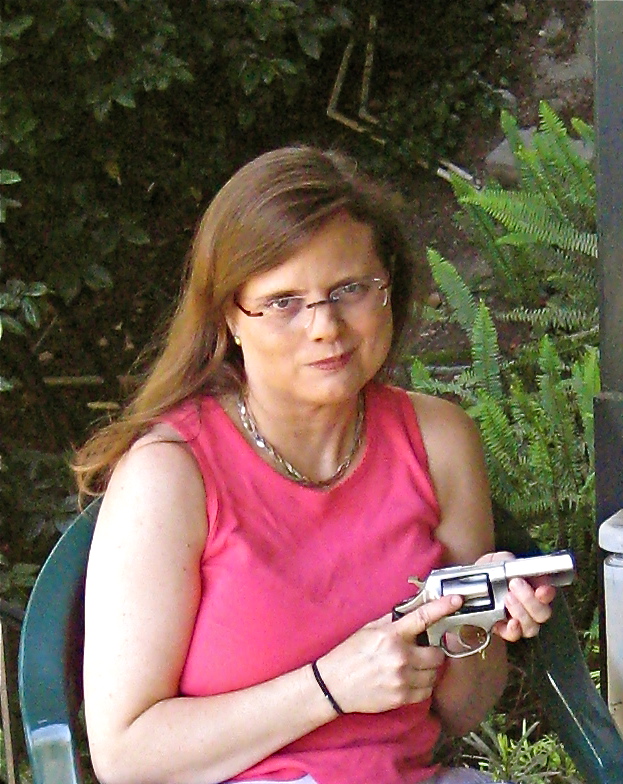 This is one of the last pix
we took before we left
the house in La CaŮada.
I think it's very flattering
to Bathsheba the .357.
"The women of this country learned long ago,
those without swords can still die upon them.
I fear neither death nor pain." —Eowyn, Tolkien's
Lord of the Rings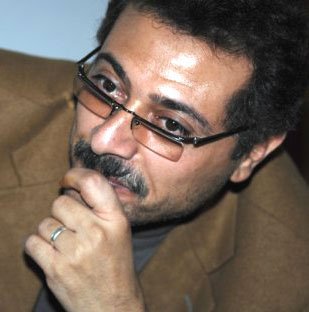 Free Abdulkarim al-Khaiwani!
See Jane Novak's "Yemeni Watch" blog,
Armies of Liberation.
Free journalists and dissident bloggers, worldwide!
Some of My Homegirls—
ERROR: http://rpc.blogrolling.com/display_raw.php?r=59e4b55f70f50de810150859b200a635 is currently inaccessible
ENERGY RESOURCES:
• API
(Information on Oil and Natural Gas)
• Natural Gas
• The California
Energy Blog
• The Alternative Energy Blog
(Solar, Wind, Geothermal, etc.)
• The Energy Revolution Blog
• Gas 2.0 Blog
• Popular Mechanics'
"Drive Green"
MOVIES & TELEVISION:
Criticism—
• Libertas
(now on hiatus, but they'll be back!)
• Pajiba
Real
Indie Productions—
• Indoctrinate U
(Evan Coyne Maloney)
• Mine Your Own Business
(Phelim McAleer)
• Expelled: No
Intelligence Allowed
(Ben Stein, Logan Craft,
Walt Ruloff, and John
Sullivan)
Real Indie Production
and Distibution
Companies—
• Moving Picture Institute
THE SAGA OF LIFE IN
THE R.H. HYMERS, JR., CULT:
• First Installment: The Basic Story

• Hymers' History of Violence
• How Fun Is It To
Be Recruited Into Hymer's
Offbeat Church? Not Very.
• How I Lost My Virginity
THE LITTLE MISS
ATTILA SAMPLER:
On Food:
•
Dreadful Breakfast Cookies
On Men and Women:
•
It's Rape If
You Don't Send
Me Money
•
Women Talk Too Much;
I'll Date Dolphins
•
Heterosexual
Men Are Kinky
•
Hot Cars,
Hot Girls
On Animation:
•
Freakazoid!
—the Commentary
•
Freakazoid!
DVD
On Religion:
•
Athiests and
Christians Talking
To Each Other
TESTIMONIALS:
"Good grammar, and better gin."
—CalTech Girl
"I enjoy Little Miss Attila's essays."
—Venomous Kate
"Joy is good at catching flies with honey."
—Beth C
"Your position is ludicrous, and worthy of ridicule."
—Ace of Spades
"Sexy."
—RightGirl
"Old-school."
—Suburban Blight
HAWT LYNX:
Teh Funny—
• Dave Burge
Interesting News Items
Civics Lessons—
Taranto on How a Bill Becomes Law
Editorial Resources—
• Better Editor
• Web on the Web
• Me me me me me! (miss.attila --AT-- gmail --dot-- com)
Cigars—
•
Cigar Jack
Science—
•
David Linden/
The Accidental Mind
•
Cognitive Daily
Rive Gauche—
•
Hip Nerd's Blog
•
K's Quest
•
Mr. Mahatma
•
Talk About America
•
Hill Buzz
•
Hire Heels
•
Logistics Monster
•
No Quarter
Food & Booze—
•
Just One Plate (L.A.)
•
Food Goat
•
A Full Belly
•
Salt Shaker
•
Serious Eats
•
Slashfood
Travel—
•
Things You Should Do
(In the West)
•
Just One Plate (L.A.)
Cars—
•
• Jalopnik
The Truth About Cars
SoCal News—
•
Foothill Cities
Oh, Canada—
•
Five Feet of Fury
•
Girl on the Right
•
Small Dead Animals
•
Jaime Weinman
Audio—
•
Mary McCann,
The Bone Mama
(formerly in Phoenix, AZ;
now in Seattle, WA;
eclectic music)
•
Mike Church,
King Dude
(right-wing talk)
•
Jim Ladd
(Los Angeles;
Bitchin' Music
and Unfortunate
Left-Wing Fiddle-Faddle)

•
The Bernsteins
(Amazing composers
for all your
scoring needs.
Heh. I said,
"scoring needs.")

Iran, from an Islamic Point of View
and written in beautiful English—
•
Shahrzaad
Money—
•
Blogging Away Debt
•
Debt Kid
•
Debtors Anonymous
World Services
•
The Tightwad Gazette
Sex—
•
Gentleman Pornographer
More o' Dat
Pop Culture—
•
Danny Barer
(Animation News) •
Something Old,
Nothing New
(And yet more
Animation News)

•
Sam Plenty
(Cool New
Animation Site!)

•
The Bernsteins
(Wait. Did I mention
the Bernsteins
already? They're
legendary.)

Guns & Self-Defense—
•
Paxton Quigley, the Pioneer
•
TFS Magnum (Zendo Deb)
•
Massad Ayoob's Blog
THE BLOGOSPHERE ACCORDING TO
ATTILA GIRL:
The American Mind
Aces, Flopping
Ace of Spades
Argghhh!!!
Armies of Liberation
Asymmetrical Information
Atlas Shrugs
Attila of Pillage Idiot
Beautiful Atrocities
The Belmont Club
The Bitch Girls
Bolus
Books, Bikes, and Boomsticks
The Common Virtue
Da Goddess
Danz Family
Dean's World
Desert Cat/a>

Digger's Realm
Cam Edwards
Eleven Day Empire (James DiBenedetto)
Flopping Aces
Froggy Ruminations
Gay Orbit
Gregory!
Jeff Goldstein
Mary Katherine Ham
At the D.C. Examiner
Hugh Hewitt
Hi. I'm Black.
Iberian Notes
IMA0
Iowahawk
The Irish Lass
In DC Journal
Infinite Monkeys
Instapundit
Intel Dump
Trey Jackson (videoblogging)
James Joyner
James Lileks
Rachel Lucas
Men's News Daily
Michelle Malkin
Nice Deb
No Watermelons Allowed
North American Patriot
On Tap
On the Fritz
On the Third Hand
Outside the Beltway
Oxblog
Peoria Pundit
Photon Courier
Power Line
The Protocols of
the Yuppies of Zion
Protein Wisdom
The Queen of All Evil
Questions and Observations
RightGirl
Right Wing News
Scrappleface
Donald Sensing
Rusty Shackleford
The Shape of Days
Sharp as a Marble
Sheila A-Stray
Laurence Simon
Six Meat Buffet
Spades, Ace of
Suburban Blight
TFS Magnum
This Blog is Full of Crap
Triticale
The Truth Laid Bear
Venomous Kate
VodkaPundit
The Volokh Conspiracy
Where is Raed?
Wizbang
Write Enough
You Big Mouth, You!

Support our troops; read the Milblogs!